Shattuck Vineyard participates in the Monthly Art Hop located in Truth or Consequences. You can find us at the Grape Gallery from 6pm - 9pm on the Second Saturday of every month. Come and join us. Art and Wine from 6-9! We are excited to be part of this event!

---
On May 27-29, 2017 Shattuck Vineyard will once again participate in the Southern New Mexico Wine Festival in Las Cruces, NM. There will be many NM wineries, live entertainment, and local vendors. This event will be held at the Southern New Mexico State Fairgrounds. We hope you stop and try our wines!

---

Join us at the 24th Annual Santa Fe Wine Festival. This will be held on Saturday
and Sunday July 1-2, 2017. Both days will be open from 12-6 pm. This event will
take place at the Rancho De Las Golondrinas History Museum located in Santa Fe, NM. It will be an exciting
weekend!
---
---
Past Events

Vines in the Pines at Ruidoso, NM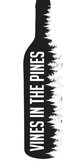 Vines in the Pines!! Arts, Crafts, and New Mexico Wine will be at this event on Feb. 11-12, 2017 at the Ruidoso Chamber of Commerce! Both days will be from 12-6pm. Please come see us. It is a great place to buy your Valentines Days gifts. See you there!

---
Carlsbad Winter Wine Festival


Shattuck Vineyard will be participating at the Carlsbad Winter Wine Festival. The event will take place on Friday Dec. 2nd from 6-9pm and on Sat Dec 3rd from 12-6pm. Come and visit us! The event is located at the Pecos River Village Conference Center. Come out and try our wine and pick up some Christmas gifts while you are there! Shattuck Vineyard will have some Christmas items on display. We guarantee you will enjoy your time! For more information about this event you can check out their website:
www.carlsbadwinterwine.com
See you there!!
---
Elephant Butte Fine Arts & Craft Show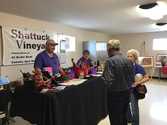 Shattuck Vineyard joined the Elephant Butte Fine Arts & Craft Show. It was a fantastic turnout and
held for a great cause! There were a lot of local NM vendors. The event was held on Saturday November 26, 2016 from 9:00 am - 4:00 pm. It was a wonderful day!



---
---
---