Pinot Gris (also know as Pino Grisio)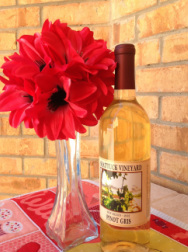 Our Pinot Gris has notes of Guava and Pear with a rather distinct flavor that strengthens as the wine increases in temperature. Those that like it drink it at about 60`F. Pairs well with chicken in Alfredo sauce or grilled fish. Also goes great with a good cheese.

---
ArRey of Chardonnay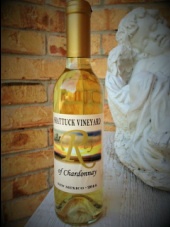 ArRey of Chardonney is a non-oaked white wine. The name comes from a small town next to Caballo but also describes the rays of sunlight we get in our NM desert. This Chardonnay is light bodied and soft and has a buttery texture. This wine pairs nicely with turkey or chicken dishes.

---
White Zinfandel (really a Rose)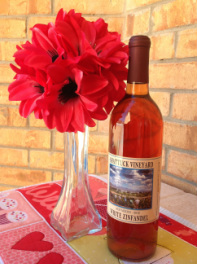 This rose wine is strong with varietal characteristics and shows well chilled and with some spicy foods, sausage or chile. It finishes off lightly sweet. It is a great summer drink and makes great spritzers as well.

---
Gewurztraminer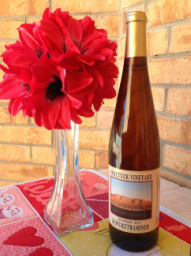 This wine is crisp and sweet, great for a warm day by the pool. It can be served slightly chilled and goes great with fruit or dessert. For those that enjoy a sweet wine, this is our sweetest. We guarantee you will enjoy it!

---
Chenin Blanc ~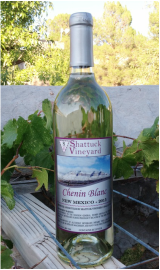 Chenin Blanc is our newest addition to our white wine list. This white grape is versatile and produces light pear like flavors. This sweet refreshing wine is crisp and filled with fruity aromas and flavors. It is a great summer wine served best chilled.

---
Zinfandel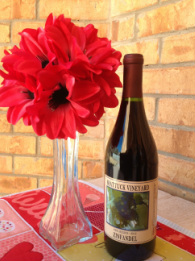 Our Red Zinfandel is great with food or appetizers or by itself. This wine has great flavor and carries well with food, steaks, burgers or pizza; has hints of vanilla and berries with a lightly oak finish. This Zinfandel has a smooth full body and a great balance. After dinner this wine accompanied by some dark chocolate makes an excellent dessert.

---
Consequence of Zinfandel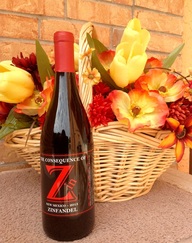 This Zintastic estate Zinfandel is finished with both American and French Oak. This wine has a deep rich color of burgundy that sparkles in the sunlight and demands attention, with easy oak tannins, a subtle spice and dark fruit present through a long mid pallet This wine has an excellent smooth finish.

---
Caballo Cabernet Sauvignon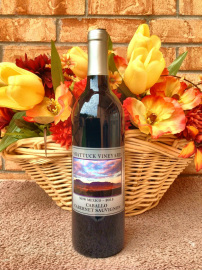 Our Caballo Cabernet Sauvignon has a strong fruit scent and a deep color of burgundy that finishes off with a smooth berry flavor. Balanced acidity and light dusty tannins provide the complexity that carries from start to finish. This wine is rich in flavor and is very enjoyable.

---
Syrah
Our Syrah is soft and enjoyable wine. It has a hint of smoke on the nose and has a good body. Our Syrah goes great with food or appetizers or by itself. Although considered dry, our Syrah finishes slightly off dry with a hint of sweetness to the palate.

---
Percha Creek Red ~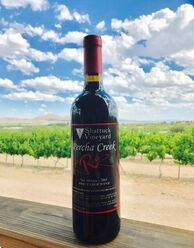 Percha Creek Red is our newest addition to our red wine list. This semi sweet wine is a blend of Shattuck Vineyard's Cabernet Sauvignon and Zinfandel. It's light hint of chocolate and lightly oak finish appeals to a wide variety of wine lovers!

---
Zinfully Sweet ~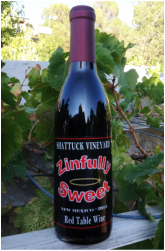 Zinfully Sweet is our newest addition to our red wine list. This sweet wine is typically served as an after dinner dessert. Zinfully Sweet is deep in color and rich in flavor. (limited in quantity)



---